Moving Walls is now available for pre-order! Available on Amazon Canada
, Amazon USA
, and Amazon UK
. Also available as a digital download on Amazon.com
!
Bang For Your Buck
September 21, 2007 02:59 PM UTC
UPDATE!: the new song performed in Victoria and Vancouver is called "Silent Army In The Trees." Matthew also commented that it was only half way finished. Stay tuned for more news and updated lyrics.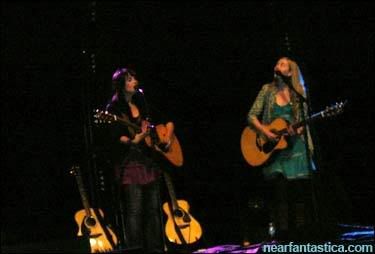 Matthew Good ended the first half of his British Columbia performances tonight with a whopping and spectacular two hour and forty minute set. The night featured the musical talents of Toronto's Dala girls
, a guitar solo by none other than Rod Bruno, and friendly banter about a near by parking lot. Below is the setlist from tonight and a look into what may be played over the next few months:
Girl Wedged Under The Front Of A Firebird, Load Me Up, Strange Days, Born Losers, Silent Army In The Trees, Black Helicopter, She's in it for the Money, I'm a Window (the next single as Matthew noted on the Bored), Symbolistic White Walls, 99% of us is Failure, Avalanche, Odette, Prime Time Deliverance, Simon and Garfunkel's "Keep the Customer Satisfied
," Pledge of Allegiance, and Apparitions.
After the first set, the two thousand strong crowd applauded Matthew on for his first encore. As he had promised before on an earlier date, Good performed North American for Life vocally to the backing of a synthesized orchestra and illuminated in fog.
Since the intermission music in between performances was being streamed from Matthew Good's iPod, we can only assume that the same was done for the backing instrumentals. If you're wondering what other surprises they've got in store, be sure to check out the "Nothing to Hide" solo acoustic tour. To buy tickets or check if your city is scheduled for a performance be sure to check our concert listings and this website daily!
The rest of the encores were: Champions of Nothing, Suburbia, Metal Airplanes, Fated, The Fine Art of Falling Apart, and Daniel Johnston's True Love will find you in the End.
We will have lyrics for the possible new song up shortly. Safe journies to Matthew Good and his tour crew.
Mystery Box
Swag


We heard you like shirts. All the proceeds go to our monthly server bills.