Moving Walls is now available for pre-order! Available on Amazon Canada
, Amazon USA
, and Amazon UK
. Also available as a digital download on Amazon.com
!
Oh Be Joyful! Out now!
July 25, 2005 02:41 AM UTC
Oh Be Joyful! was released late last night, July 24th, on Matthew Good's site accompanied by a video release. This is the first release from the greatest hits album, In a Coma. Check our album info section for the latest updates!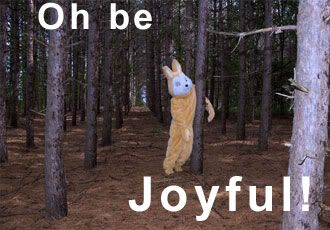 Note: the rabbit isn't in the video.
You can watch the video here: Oh Be Joyful! Video
The lyrics are here: Oh Be Joyful! Lyrics
The track is available for download on iTunes. We will not be posting an official site download for this track as it is available on iTunes but several users have posted the track on The Bored.
The video is reminiscent of Shaw Cable's annual yule log broadcast where since 1966 they have televised a yule log burning in the fireplace.
Matthew and his team have also updated the website and converted the MBLOG over to Wordpress. Commenters must now be registered.
Mystery Box
Related Articles
Swag


We heard you like shirts. All the proceeds go to our monthly server bills.