Moving Walls is now available for pre-order! Available on Amazon Canada
, Amazon USA
, and Amazon UK
. Also available as a digital download on Amazon.com
!
Back In The Studio
January 26, 2007 02:39 PM UTC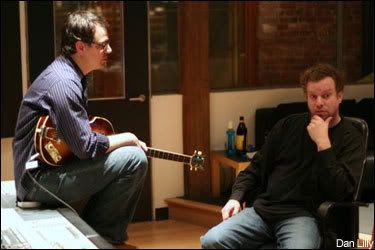 As you can see from the picture above (care of Dan Lilly aka zonaboy), Matthew Good is back in the studio! It also appears that there's been some changes to the previous tracklist while Pat Steward seems to be playing percussion again for recording.
The date for the next studio album, as well as it's name, remains unknown though we're all hoping for a late summer release.
Anyway, as you may have noticed while reading this article... We've updated the website! Some may still be experiencing DNS issues as the site was pointed to the test page rather than the website itself but that should be resolved in 48 hours max. We thank you for your patronage and your support!
Mystery Box
Related Articles
Swag


We heard you like shirts. All the proceeds go to our monthly server bills.