Moving Walls is now available for pre-order! Available on Amazon Canada
, Amazon USA
, and Amazon UK
. Also available as a digital download on Amazon.com
!
Partial Track List Released
November 20, 2006 07:31 PM UTC
A partial tracklist was posted on Matthew's Flickr account earlier today.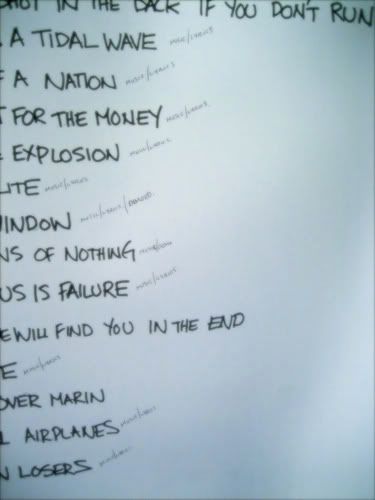 Here's what we've gathered from it:
- Can't Get Shot in the Back if you Don't Run
- If I was a Tidal Wave
- Breath of a Nation
- She's in it for the Money
- Single Spark Explosion (possible lyrics on Flickr)
- Prost-Elite (possible lyrics on Flickr)
- Open Window
- Champions of Nothing
- 99% of Us is Failure
- Love Will Find You in the End (A Daniel Johnston cover.)
- __________e (May be Pete?)
- Moon Over Marin (A Dead Kennedys cover?)
- Metal Airplanes
- _________ Losers (Could be Natural Born Losers?)

We haven't quite figured them all out but a special thanks to "haircut-rabbit" for noticing that some titles are previous blog posts. As of now, we have a rough count of 16 new songs though it should be noted that this list is not the complete list. Check out the Bored for updates.
Mystery Box
Related Articles
Swag


We heard you like shirts. All the proceeds go to our monthly server bills.